Message from the President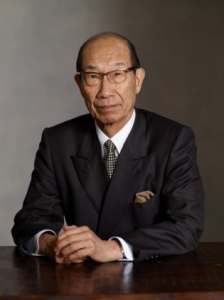 Amid heightening social demand for nations, corporations and individuals to demonstrate a high standard of ethical behavior, it is unequivocally the mission of the fisheries industry to ensure the sustainable use of fishery resources and conserve the marine ecosystem. It is equally sure that by pursuing this mission, we will be able to contribute to further enhancing the value of fishery products.
Marine Eco-Label Japan (MEL), a marine ecolabelling scheme operated by the Marine Eco-Label Japan Council (MEL Council), is one of the means by which we can fulfill the above mission.
Despite its short history, our Council is already pushing forward to meet the food procurement standards for the Tokyo 2020 Olympic and Paralympic Games and to expand Japan's seafood consumption and exports with a view to supporting the nation's fisheries industry in achieving further development. For the time being, our efforts with regard to the MEL scheme will be focused on the following objectives:
To be recognized by the Global Sustainable Seafood Initiative (GSSI), which is striving to establish an international standards platform for marine ecolabels
To allow the MEL scheme to reflect and attribute value to the diversity of Japan's fisheries industry to the extent possible
To ensure that the scope of the MEL scheme includes the supply chain encompassing capture/farmed fisheries and the distribution and processing of fishery products
With assistance from political, administrative and research institutions and in step with seafood producers, distributors, food service providers, consumers and the general public, we would like to take actions to embody our belief through MEL. We humbly ask for your understanding and support, which are crucial in making our marine ecolabel an internationally recognized scheme that reflects the geographical, biological, industrial and cultural diversity of Japan.
Naoya Kakizoe
President
Marine Eco-Label Japan Council
Corporate Profile
| | |
| --- | --- |
| Name | Marine Eco-Label Japan Council |
| Established | December 2, 2016 |
| Address | 7th floor Sankaido Bldg., 1-9-13, Akasaka, Minato-ku, Tokyo, 107-0052 Japan |
| Tel/Fax | +81-3-5545-3315 / +81-3-5545-3316 |
| E-mail | info@melj.jp |
Organization and Major Regulations
*Organization Chart of MEL Council
*Statutes of MEL Council
*Membership Regulations
*List of Board Members
*List of Standard Setting Committee_Members
*List of MEL Members
*Operational Management Regulations(OMR)
*Detailed Rules of OMR
*Guideline for Establishment of Standard Setting Committee
*MEL_Annual_Report_FY2018
*MEL_Plan_of_Operation_FY2019
*Regulations for Complaints and Appeals Process
*(Form for Complaint or Appeal)
Please submit to the MEL Council  (by post, email, or fax ) shown as "Inquiries"at the bottom right.
*Supervisory Audit Regulations
*Information Disclosure Regulations
*Regulations_Logo
Address